ADS Innotech is a leading provider of spare parts for heavy and light industrial gas turbines. We Supply the highest quality gas turbine combustion liner spares, various seals, critical machining components, all conforming to Original Equipment Manufacturer (OEM) specifications.


We have industry experience and a company-wide focus on staying up-to-date on the latest industry developments, so we can provide the best possible components to our customers. Each of our supplied parts conforms to OEM standards, including raw material, manufacturing process, nondestructive testing, and surface treatment.


Our parts are reverse engineered from original equipment manufacturer (OEM) components and are enhanced where necessary. Our parts are interchangeable with OEM parts.


We are dealing into,
Combustion Liner Spares

Critical machining parts

Seals
Materials we are dealing in Gas Turbine spares are Alloy 617, Hastelloy X, X22CrMoV 12.1, L 605, X750 etc.


Seal Strips - Segment GTD222

F9E stg1 Seal shroud

F9E stg1 Seals

Coverplate TS-VN S1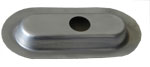 Anti Rotation Block

Labyrinth Block - Seal Strips

Inside crossfire tube collar

Hula Seals